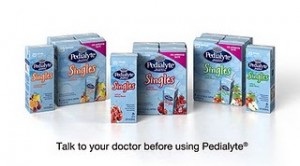 Sick? Need help.. try Pedialyte Singles in Tetra Packaging.  These are to be used to help prevent dehydration from diarrhea and vomiting and should be used under medical supervision. This product has kid-approved flavors, kid-friendly packaging, is a mom-friendly clear liquid, and has a shelf life of up to 18 months. Now, to find this product. You can search for stores near you, and then use the $1.50/1 Pedialyte online coupon to save money! I did not find this product at my local Walmart, but I did find it at Homeland. There was a catalina promotion and I got back $1.50 for every 2 I bought!
Next,  medicines that will come in handy when sick. Like Cough and Cold medicines and pain and fever reducers. How do I know, well we have had a sick household for over a week now! I had the luxury of having leftover Thanksgiving food to keep my family satisfied.
Now for the dinner, food and what to eat when sick.. Here is a great Make n' Take meal. You can freeze it to be eaten in a time of need. So let's invite friends over, cook and share meals to be ready when your family get's hit with the nasty colds that can lurk this time of year! Definately be ready to share #PedialyteSingles with your friends as well. Here are my ideas..
Pizza Bake
Ingredients:
1 pound ground beef
16 oz Spaghetti Sauce
2 cups pasta any kind will work cook and drain
1/2 cups milk
3 cups Mozzarella cheese, shredded (1 cup set aside)
Directions:
First boil the pasta noodles while cooking noodles, cook the ground beef. After noodles are done cooking, drain and return to pot. Mix all ingredients except for the last cup of cheese and stir. Pour into a deep dish 8×8 pan, top with remaining cheese. Cover and bake at 350 degrees for 30 minutes.
Want to freeze?
Eliminate the baking part. Instead, cover and freeze. To serve: Thaw. Bake covered at 350 degrees for 30 minutes, if frozen bake for about 1 hour.
Recipe Adapted from Once A Month Mom!
Other ideas to have on hand should include Chicken Noodle Soup, Frozen dinners, Ramen noodles would work as well. A well stocked pantry is a must, and easy to do especially for couponers like me.
Let's hope we don't become victims this winter. Hand washing works well, so wash those hands! Stay well my friends. Being sick is no fun.
Disclosure: This post was compenstated by Collective Bias. For my time and products used. All views and opinions are mine.