Do you like having deals delivered to your inbox?
Sign up for my emails
for the latest info. You may also "
like" Coupon Princess
on Facebook for even more savings. Share your own deals and much more! Thanks for your support.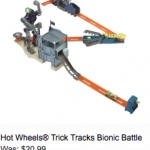 Cyber Monday In October!
Get Free Shipping today only from Mattel!
Want more savings? Use this Coupon Code: 15OFF4U to save 15% Off your Mattel Toy purchase, and still get free shipping.
Toy Story, Barbies, Hot Wheels, Handy Mandy, Apples to Apples game and more from Mattel.
Sign up with Ebates, shop Mattel.com recieve $10 for signing up and get 2% cash back!