Do you like having deals delivered to your inbox?
Sign up for my emails
for the latest info. You may also "
like" Coupon Princess
on Facebook for even more savings. Share your own deals and much more! Thanks for your support.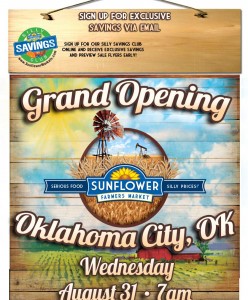 Sunflower Market OKC Deals
Hass Avocado's 3/$1
Red Leaf or Green Leaf Lettuce .88 each
Broccoli Crowns .88 lb
All natural Beef London Broil $1.77 lb (save $4.22 lb)
Cross Rib Roast $1.77 lb (save $3.22 lb)
Amy's Lasagna or select full meals $2.50 (frozen section)
For the complete Ad, go to Sunflower Market. On Tuesdays, you can check the new ad for the following week. Plus, Wednesday's are double ad days! For every reusable bag you bring to pack your groceries in, Sunflower will credit your bill .10 per bag!