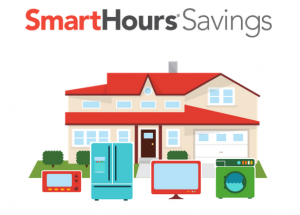 OG&E SmartHours program will save you money.  I know many friends and family are skeptical. "Oh NO, I can't use my appliances between 2 and 7 pm. I just can't do that." That is the common response I get, and  I  reply with a YES you can! I am home all day long (well mostly, as I don't work outside the home) and I saved a ton of money this summer. (at bedtime, I can use my AC with no problem, because the price per kWh is $0.045! I calculated my savings, and I saved over $500 by using Smart Hours, and we were not sweating in our home by any means. You can calculate your savings, with this SmartHours Tool, that OG&E offers for FREE to see how much you will save over the summer months when using SmartHours. This will show you how much you will expect to pay with SmartHours and without! You will be surprised when you see your total savings! The goal of the SmartHours program is to save energy, and the need to build more power plants. By passing on the savings to the customer, for managing there electrical use during peak hours will reduce the urgency of building new power plants. Need more info on other ways to save? Read about OG&E (Oklahoma Gas and Electric)  Wind Power program.
When you sign up for SmartHours you will be eligible for the FREE thermostat ($300 value) this thermostat is programable all year around. This is a great way to keep those heating bills under control during the winter months as well! You can sign up for SmartHours easy, take the tour to see what your electrical usage is and how much you will save by using the OG&E Timeline APP, and at the end go ahead and sign up! It is really that easy.

Disclosure: Compensation for this post was provided by OG&E. Opinions expressed here are my own.