Do you like having deals delivered to your inbox?
Sign up for my emails
for the latest info. You may also "
like" Coupon Princess
on Facebook for even more savings. Share your own deals and much more! Thanks for your support.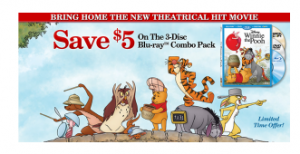 Have you seen the movie Winnie the Pooh? I saw it in the theater, and it actually had a really good lesson on Friendship. Now, next week on Tuesday, October 25, 2011 you can own Winnie the Pooh 2011 Movie on a 3 disk DVD/Blu-Ray combo pack and Save $5 off. Normally the week the movie comes out is about the cheapest you will find.
Print your $5/1 Coupon for Winnie the Pooh 2011 from Disney Rewards site.