Do you like having deals delivered to your inbox?
Sign up for my emails
for the latest info. You may also "
like" Coupon Princess
on Facebook for even more savings. Share your own deals and much more! Thanks for your support.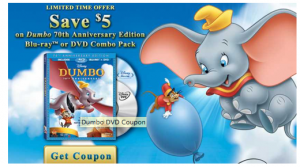 I haven't seen Dumbo in YEARS! I can't wait to get this movie next week on Tuesday, September 20. You can get the Combo Pack for $5, these are great because on movie is Blu/Ray and the other Reg. DVD which can be for the "kids" DVD player!
Print Dumbo Coupon
Normally on release day, Target, Walmart, Toys R' Us and other retailers will have the movie on sale!