Do you like having deals delivered to your inbox?
Sign up for my emails
for the latest info. You may also "
like" Coupon Princess
on Facebook for even more savings. Share your own deals and much more! Thanks for your support.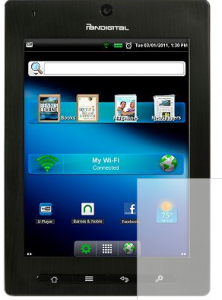 Padigital Android tablet deal is here, get your cheap Android Tablet TODAY ONLY. (10/25/2011) and will probably sell out quickly!
Use Kohl's card to get the best price, still a pretty good price without Kohls card.
Head to Kohl's and do a search for "Pandigital Android." Your first result is a 7-inch Pandigital  Android Multimedia Tablet and e-reader for $159.99.
Take 30% off with code SAVEATKOHLS through 10/29/2011. Kohl's card only. Takes off $48.
Try LOVE2SHOP for another 20% off.  If that doesn't work, use code PGO15OFF to take off another $16.80.
Send in for the $20 rebate here — rebate only good for purchases made through 10/25! Now you're down to $75.19.
Automatic free standard shipping because you are over $75.
Get back $10 Kohl's Cash for every $50 you spend through 10/26. So you'll get back $10 and are now down to net $65.19 for your tablet. (If you add $5 more after the 30% code to your order and get over $100, you'll get $20 Kohl's Cash back)
Even if you don't have a Kohl's Card, you can still do the rest of what is listed above and get it for as low as about $110!
For more discounts on the best items for the Holidays, see all my shopping discount codes
Thanks, Smart Spending Spot!