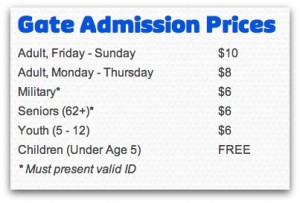 Tulsa State Fair Admission Prices, for TODAY September 26, 2013 will be $1 for your gate admission with your local Ford coupon, you can get from local Ford Dealers. Otherwise admission is $5 and $2 Midway Rides! This all begins at 5 pm tonight!
I personally enjoy going to the fair, I love the livestock, the people watching and of course the food. Don't forget the Expo buildings, those are super fun as well. When I went to the OKC fair, I toured the building with all the new cars. My son's favorite car was the mini van, he liked the sliding doors! Isn't that funny, we thought he would say the sports cars or the JEEPs. My favorite was actually the Fiat. (I have a large SUV, and would like to have a Fiat for a get around town car, Fiat if you are listening I would be happy to drive one of your cars around town sometime!
Regarding the fair food, I seem to always go for the Indian Taco. Gotta love that fry bread, and for dessert the Cinnamon Rolls!  However, going to the fair is not a cheap outing, which is why I am glad it only comes around once a year!
October 1, gate admission price will be $5 with Children under the age of 5 free!  For more information on tickets and more CLICK HERE