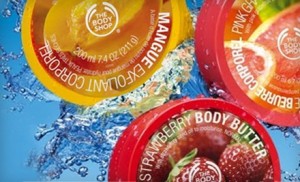 This Groupon Deal is great! I remember last time The Body Shop had some great instore deals, along with their groupon and people got all kinds of great items! If you redeem Groupon by May 30, 2011 you will get $45 worth of merchandise. After this date you will get $40 worth. Read all the fine print, so you know all the rules with this deal. Not valid online, use in store only.
You can find this deal on the side bar of Groupon on the OKC groupon city, or find in Houston, New York and other cities.
Sign up for Groupon here, if you have not signed up before. Then refer your friends to Groupon to get this deal!
If you have signed up for Groupon before, purchase this Groupon by clicking on the banner below.

Disclosure: This post contains referal links and affiliate links. Thanks for supporting my site, by using the links provided.