Do you like having deals delivered to your inbox?
Sign up for my emails
for the latest info. You may also "
like" Coupon Princess
on Facebook for even more savings. Share your own deals and much more! Thanks for your support.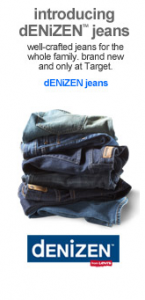 Well, my super picky son, had the chance to try out the Denizen Jeans line from Target. This is a back to school item, and of course he needs new jeans for school. He normally only wears one kind. Don't worry, they are the cheap jeans, but I was able to allow him to try out the Denizen jeans in his normal size. I have to say, the weight of the jeans was perfect, not thin and cheap. They also fit perfect, and he loved them. Only problem is that the weather up until a few weeks ago was in the 90 to over 100 range. So that would be a no wearing denim kind of weather.
Have you seen these jeans at Target? They have them for all ages. Girls, boys and adults! All the styles. Check dENiZEN out on Facebook, great style and great pictures!  You will be glad you did. Great style, great quality.
Disclosure: I recieved a pair of these jeans to try out, all my opinions are my own.