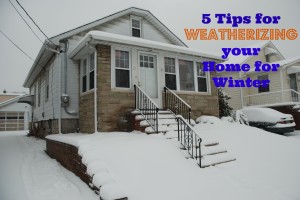 Weatherizing your home, is an important step in saving money during the hot and cold months. As the winter weather approaches, our energy bills can rise due to poor insulation and leaky windows, and door drafts. Here are 5 tips to help with winterize your home.
5 Tips for Weatherizing Your Home
 Make sure you have proper insulation in your attics. You will be amazed at how that fluffy insulation can help with your heating and cooling bills. Insulation isn't as costly as you may think. You can even do it yourself.
 Wear layers inside your home, blankets and sweaters could become your best friends to help keep the temperatures lower and your body warmer.
Check your air ducts, make sure they are sealed properly and aren't allowing air to escape into areas you aren't wanting to heat of cool.
Replace air filters. You can also buy air filters you can re-use; this will help you save money as well. You just rinse them out with water, and let dry.
 Windows, do you have windows that allow air to enter your home? Get a winterization kit to help seal those windows and keep that cool air out of your house. You could also hang heavy drapes, to help seal out the cool air from entering your home. Need new windows? Think about replacing a few at a time. No need to replace all the windows at once.
Need assistance in weatherization? You may qualify for OG&E assistance program. For more information about eligibility and participation, contact OG&E Customer Service at 405-272-9741 (metro Oklahoma City) or 1-800-272-9741 (all others).
Disclosure: Compensation for this post was provided by OG&E. Opinions expressed here are my own.