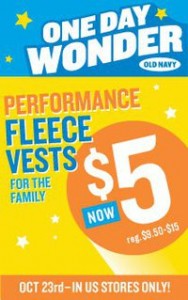 Here is the the next One Day Wonder sale at Old Navy.  This deal is in-store only
This Saturday October 23, 2010,  Old Navy will have  a sale on their Performance Fleece Vests for only $5 (Reg. $9.50 – $15).  This is an all-day sale, but I advise to go early for best selection. Not sure what time they open so check your local times!
For more info check out Old Navy Fleece Vests Sale on their Facebook page.
Thanks for the reminder! Moms Need to Know