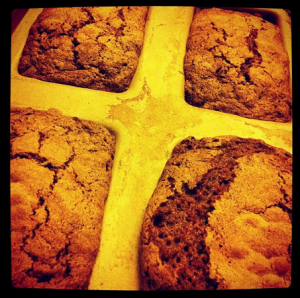 Zucchini Bread Recipe
Not sure the original source, but this is how I make my yummy Zuchini Bread!
3 eggs beaten
1 cup vegetable oil ( I know that is alot, but I think that what makes the outside crispy!)
2 cups of sugar (the granulated kind)
2 tsp Vanilla
3 cups of flour
1 tsp soda
3 tsp cinnamon (that is what makes the mixture brown)
1/4 tsp salt
1/2 tsp baking powder
3 cups of shredded Zucchini (about 2 large zucchinis will work)
Directions:
Combine first four ingreidients, and mix well. Add the rest. Pour into greased and floured loaf pans. (Makes 2) I like to make mine the small sizes, so it makes 4 small loaves!
See, Wilton Excelle Elite 4-Cup Mini Loaf Pan
 <— On Amazon. I used the Pampered Chef Stoneware.
Bake in oven at 325 degrees for 1 hour

This is a great way to use up that summer zucchini. This bread also freezers well.