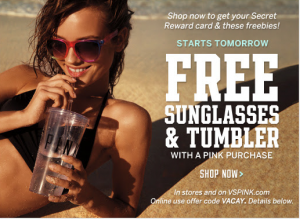 Freebies right now with Pink Purchase at Victoria Secret's online or in stores now while supplies last. Sunglasses and Tumbler, plus look for your special code to get your Secret Reward card with any $10 or more purchase with your special Pink Nation Member code found in your email box (must be a Pink Nation Member, this is a free club. Not a credit card!) This offer starts TODAY, February 20, 2014!
Shop Online Code: VACAY (for tumbler and glasses)
Shop Online Code: SHIPBRA, FABULOUS (free shipping code with Bra purchase, and FREE panty)
Should be able to use 3 codes with each order!