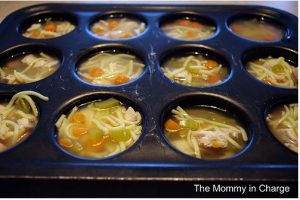 Photo Credit From The Mommy in Charge
How To Freeze Soup
It is that time of year, we have our
Crockpot's
 <– click to shop for a crockpot  on Amazon
going, soup simmering. Roasts Roasting, tummies growling, homework woo's, bedtime battles, runny noses, tired mommy's. So what to do for dinner in a hurry?
If you are into cooking in batches here is how to freeze soup, simple and easy. I found an awesome way to freeze Soup, or probably anything else that you would like to freeze in small portions. That way when you are having one of those nights.. you can pop a few of these out, pop in the microwave or on the stove top and your dinner is done. This is even a great idea to make for an older person in your life that doesn't cook anymore. 
Basically, pour soup into those silicone cups that are placed in muffin tin, and then freeze. When frozen, take cups out and place in ziplock baggie.