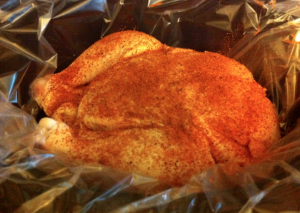 Let's talk about how to cook a whole chicken. I was recently at Sam's Club, and bought a 2 pack of Whole Chickens (w/o the neckbones and giblets) for $7.99 for both! Which is a pretty darn good price. So, I decided I would just cook the chicken in the crockpot and use for recipes, and chicken broth when done. Here is how to cooked the whole chicken in the crockpot!
First, I have to say I LOVE the Hamilton Beach 6-Quart Slow Cooker
 it works great, especially for transporting.  So are the slow cooker liners, are a great idea to use to keep that crockpot cleaning when finished.
1. One Whole Chicken (cost about $4)
2. Place Liner (if you would like) then place chicken in pot. (no water needed)
3. Season Chicken, however you would like. I used my all purpose BBQ seasoning.
4. Cook for 7 hours on low.
5. Chicken will fall apart.  Seriously it totally will, you will be so shocked. ( I was.. )
6. Now, don't throw away that juice. That is Chicken Broth, at its best. So.. after I cleaned off some chicken meat, I took the whole bag out and cut a corner off the bottom and got about 2 cups of broth!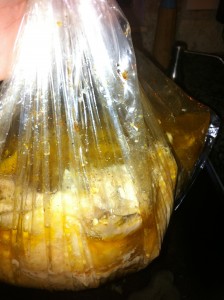 Then, look what I made with the chicken for dinner! Chicken and Rice Casserole. There are tons of things you can make with the chicken, or just eat it like it is!