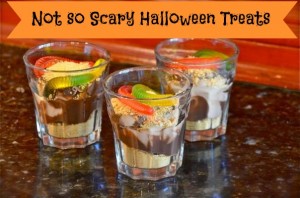 Halloween Dirt Cups with Gummy Worms
Looking for a not so Scary Halloween Treat? How about the famous Halloween dirt cups with gummy worms includes edible worms! 
Ingredients:
Pudding, any flavor you want! Mix to directions on pudding box.
Crunched up Graham Crackers (or even sandwich cookies, you know the kind with the creamy middle)
Worms, you know the gummy kind. You can buy them in the bulk section of your grocery store if you prefer to have the perfect amount for this yummy treat!
Individual serving cups, glass or plastic so you can see through them!
Directions:
Layer, crunched graham crackers, pudding, graham crackers. Then add the worms on top. You can hide them inside the dirt if you would prefer! This is a fun not so scary halloween treat!
Photo Credit , Catcher of my Eye