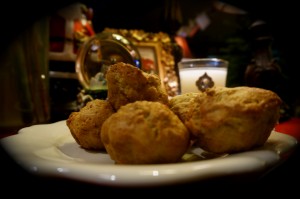 Banana Yogurt Muffins
Banana Yogurt Muffins, moist easy to make muffins. Kids will love these! Makes approx. 15 muffins. 

2 ripe bananas
3/4 cup plain yogurt
2 eggs
2 cups all-purpose flour
1 teaspoon baking powder
1 teaspoon baking soda
1/2 teaspoon Himalayan Salt

1/2 cup packed brown sugar
1/4 cup of Butter, slightly melted (the real stuff)
Here is what I did. I mixed bananas, yogurt, and eggs in my Kitchen Aid Mixer. Then added the flour, baking powder, salt, soda, brown sugar. Lastly, I added the butter, it was a bit chunky, which I like, so it will melt into the muffins and they will have a nice buttery taste! These turned out delicious. I will definitely be making them again soon. I cooked in Convection Oven on 375 degrees for 15 minutes.
Also note: I used silicone muffin tins, sprayed with oil. Which Is a fun way to make muffins. Especially if you don't have muffin liners available.